Everyone has a plan until they get punched in the mouth.
This was Mike Tyson's famous response when asked by a reporter if he was worried about Evander Holyfield's boxing fight plan. For business, Covid-19 and the potential of a looming recession is that punch.
This is not the first time we have seen this type of volatility in the market. And while no two economic downturns are exactly alike, we can look to the not-too-distant past for valuable marketing research, lessons and examples that can be applied in the current economic environment to not only help battered businesses avoid a knock-out punch, but to grow their market share.
Objective Director, Anna Leary, says businesses will need to respond and adapt their marketing plans and budgets to this environment. "As we saw with the Global Financial Crisis (GFC), this is not the time for business-as-usual, nor is it time to take drastic measures, but to be nimble and act with purpose," she cautions. "If you really believe in your brand and product, be brave."
This sentiment is echoed by John Quelch and Katherine E. Jocz detailed in their research: How to market in a downturn1 presented in the Harvard Business Review.
Companies that put customer needs under the microscope, take a scalpel rather than a cleaver to the marketing budget, and nimbly adjust strategies, tactics, and product offerings in response to shifting demand are more likely than others to flourish both during and after a recession.
As we reach the first anniversary of New Zealand's March 2020 nationwide lockdown, it's fair to say that Covid-19 has created a financial year like no other. Yet, despite considerable business uncertainty and warnings of economic doom and gloom, New Zealand's economy has surged with an incredible bounce back2, albeit some of the blow for small business, in particular, has been softened by government initiatives.
However, while Covid-19 is still present in our global community, there is a continual threat that it will eventually deliver an economic punch.
Often in times of a recession, businesses, fearful of declining revenue, look to reduce their marketing spending. Before that happens, we recommend businesses ask themselves if their business goals have changed. If they have, assess how your marketing activity can propel you toward your goals, and what you can let go of to preserve cash. Look for opportunities to become more attuned, efficient, and flexible, and identify and adjust marketing activity that isn't getting you ROI.
"When Covid-19 hit, we advised our clients to stay present in the market," says Anna, who drew on her extensive experience working alongside companies during the GFC to help grow their market share.
By mid-March 2020 we'd seen businesses starting to drop out of the market because they halted their marketing in response to the pandemic. But by staying in you can market more efficiently due to less competition, and keep building awareness of your business. That follows through into consumer action, behaviour and sales when people are ready to start spending again.
Of course, results speak for themselves, so below are two examples of the marketing strategies applied to help businesses stay present during the GFC and Covid-19, and the ROI that eventuated.
Keeping a building company at the top of the shopping list
Unlike the Covid-19 pandemic which happened suddenly, the GFC was a slow burn into recession. At the time, Anna was working with a nation-wide shed and building company. When everyone else started pulling out of the market, she advised the company to "sharpen the pencil" and stay present in the market. "Even if it was going to be a tough ride, and sales were predicted to retrench during the GFC, we knew that we'd come out of the recession eventually and the goal was to be at the top of people's shopping lists when they were confident enough to start making capex decisions again," says Anna.
"Because the economic environment had changed so much we had to find the new opportunities. With traditional media you had to commit large sums, and that was a risk. So, our strategy was to run online campaigns that were cheaper to buy and would allow us to test ideas and initiatives. Once we knew they were successful we would scale up."
This approach put the brand on the front foot in an online environment. That year the company had an exceptional year at Fieldays. "Almost by default, by staying in the market, we built brand awareness and market share," says Anna.
Cheaper ad spend and cut-through for Bayleys North Shore
During New Zealand's Level 4 & 3 Covid-19 lockdowns in 2020, we saw extraordinary results and ROI for our client Bayleys North Shore by staying present in the market. As predicted, other advertisers left the market, making it a lot more cost effective to continue advertising and easier to get cut through.
Objective Social Media Manager for Bayleys North Shore, Christine Stucki, says they didn't "set and forget" but kept marketing, stayed present and pivoted with the content. As a result, they had so much more success at building profile and brand awareness.
"We immediately revised our content plan to ensure what we were sharing reflected the mood of our target audience," says Christine.
We recommended Bayleys North Shore continue advertising on social media to ensure we stayed connected with our audience and took advantage of the hole left by competitors who stopped marketing.
As New Zealand stepped into Level 4, the content was changed to reflect the caring, community value of the brand. "We created content that was centred around easy DIY at home and things to do in your bubble," she says.
"Moving into Level 3, we tested how things like carousels would work, and ended up achieving our biggest clicks to site ever in May." During the March to May 2020 period, CPMs (cost per 1000 impressions) dropped 40% and cost per engagement dropped 62%, meaning we could reach more people with the same budget.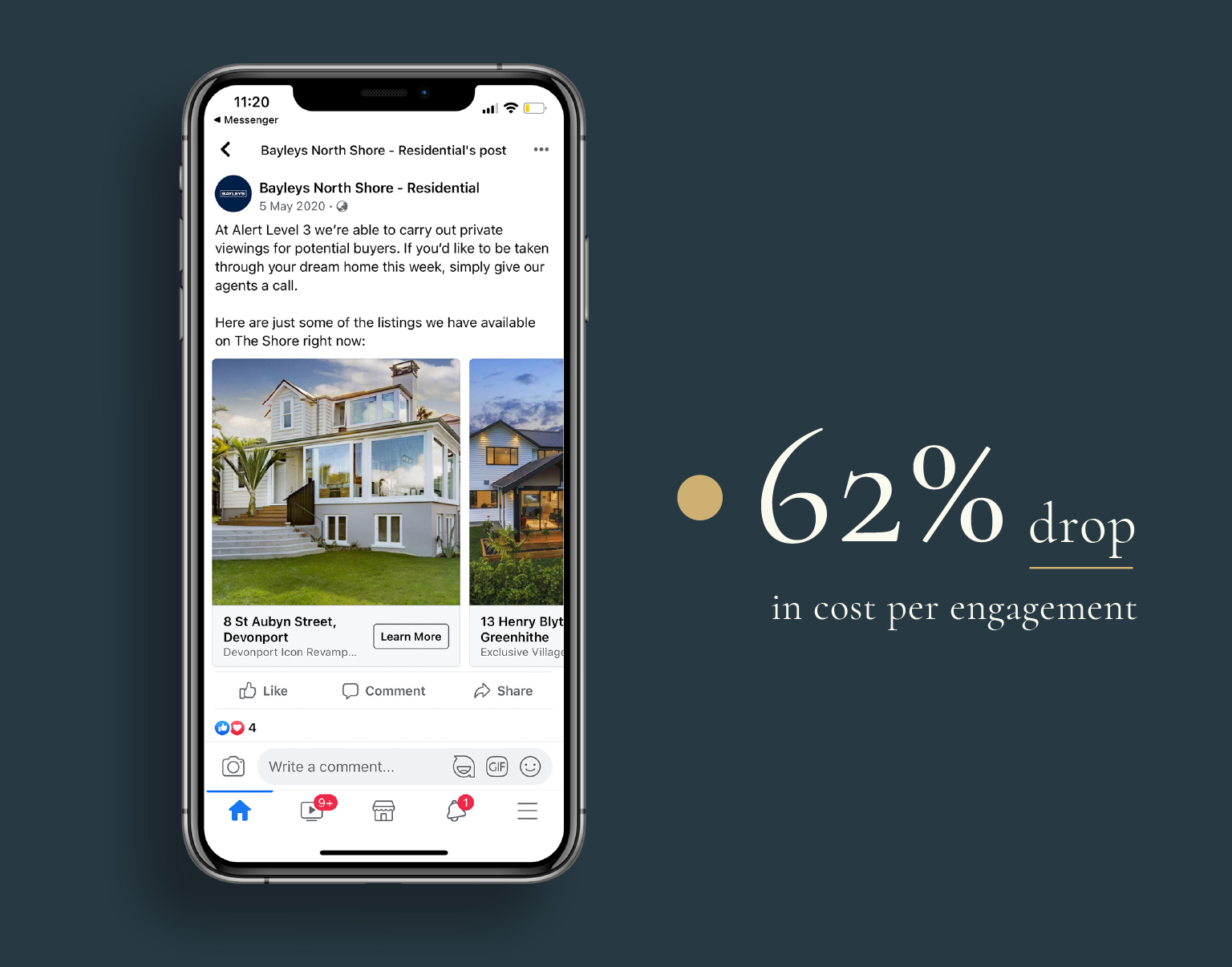 "Staying active during this time when our competitors went quiet and pulled their advertising budget was one of the best decisions we made," says Christine.
Former White House Chief of Staff and Chicago Mayor, Rahm Emanuel once said "never let a good crisis go to waste". The sentiment is simple. In times of economic crisis there is an opportunity to rise to the occasion.
References
---
More from the Objective blog: