When Covid-19 and lockdowns hit New Zealand in 2020, we saw businesses start to drop out of the market by mid-March, putting a halt to their marketing in response to the pandemic. This is a common response during times of uncertainty and economic downturn, as businesses look to reduce spending and save costs where they can.
Drawing on our experience working alongside businesses during the 2007 Global Financial Crisis (GFC), we advised our client Bayleys North Shore to keep marketing, stay present, and pivot their content. We saw extraordinary results and ROI with this approach. As predicted, other advertisers left the market, which made it a lot more cost effective to continue advertising and easier to get cut through.
Objective Social Media Manager for Bayleys North Shore, Christine Stucki, says as a result they had so much more success at building profile and brand awareness.
We immediately revised our content plan to ensure what we were sharing reflected the mood of our target audience. We recommended Bayleys North Shore continue advertising on social media to ensure we stayed connected with our audience and took advantage of the hole left by competitors who stopped marketing. Christine Stucki, Social Media Manager.
As New Zealand stepped into Level 4, the content was changed to reflect the caring, community value of the brand. "We created content that was centred around easy DIY at home and things to do in your bubble," she says.
"Moving into Level 3, we tested how things like carousels would work, and ended up achieving our biggest clicks to site ever in May." During the March to May 2020 period, CPMs (cost per 1000 impressions) dropped 40% and cost per engagement dropped 62%, meaning we could reach more people with the same budget.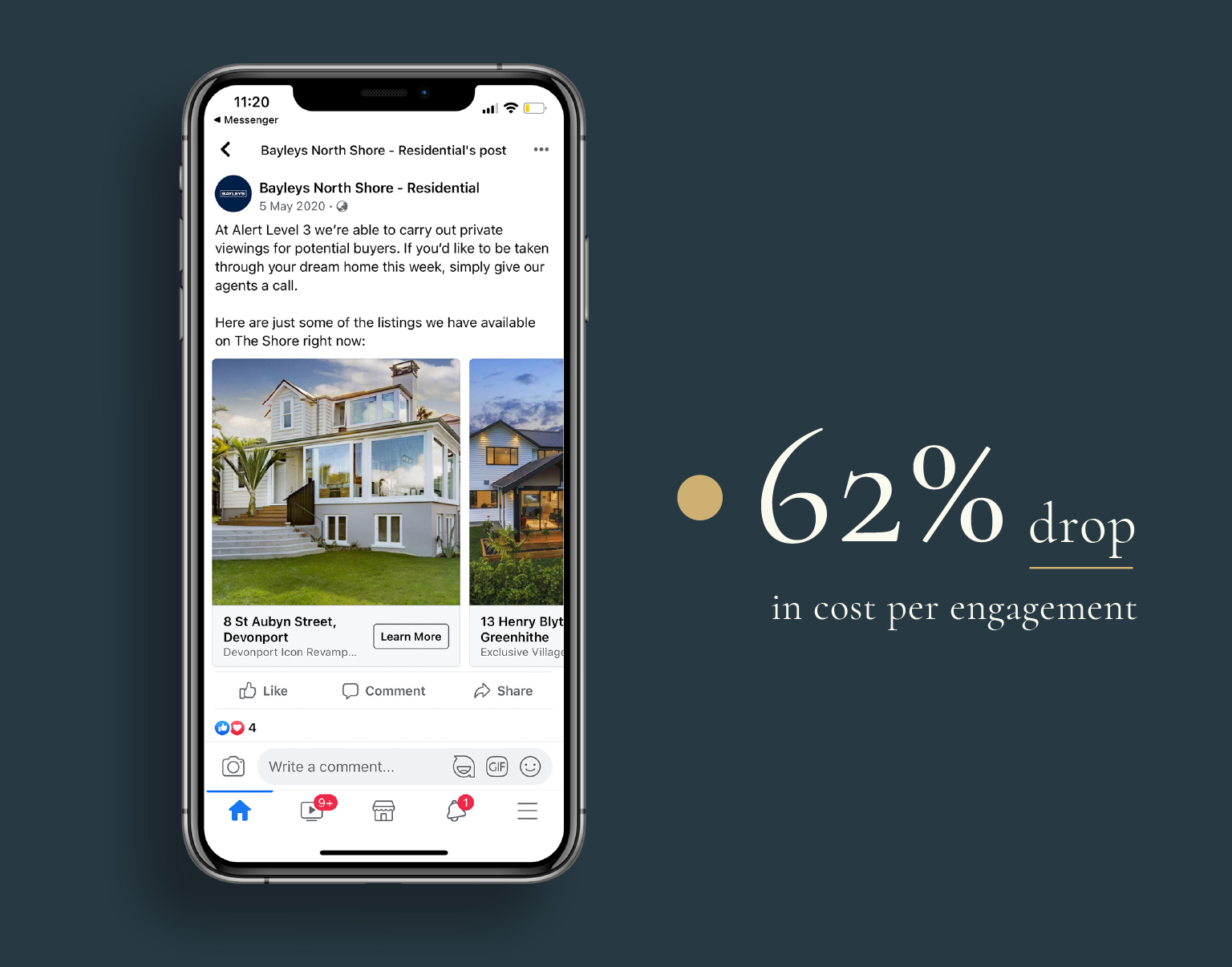 "Staying active during this time when our competitors went quiet and pulled their advertising budget was one of the best decisions we made," says Christine.
---
More from Objective: